There was a little bit of "Smoke Gets In Your Eyes" last night at the DHO, but it was much drier, so no constant use of the hair dryer to keep everything from getting soaked. Overall, the seeing went from baleful red Saturn and Jupiter, to fair conditions as the smoke cleared somewhat.
I started with something nearly straight overhead to help reduce the effects of the smoke and started over with M13 so I could change the composition to include the galaxy NCG 6207 (bottom left in the picture). That means you also have to include the bright red star HD 150998, but it also adds interest to the picture. This picture has 50% more subs (total of 15 x 300 seconds) which allows a smoother background so I didn't process the background to totally black. The dark charcoal background improves the color and the objects look more like they are an integral part of the picture instead of appearing like they are pasted on top of the background. For all the details, see the image on my website: NGC 6205, M13 in Hercules (nyostrander.us)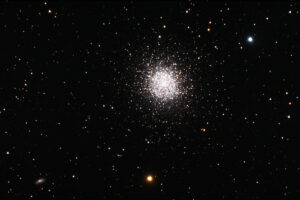 When Saturn and Jupiter returned to their normal colors as the smoke cleared somewhat, I returned to the Helix Nebula (NGC 7293) in an attempt to get at least a bit of the eyebrow arch. I added another twenty-one 300 second subs to this subject and then removed some of the brighter background images from 5 August. From the two nights, selecting only the darker background images, I ended up with forty-one 300 second subs (3 hours and 25 minutes, total). Again, this much time on the subject smoothed the background significantly and I was able to process to a dark charcoal gray background instead of a niellen background. Again, you will see that the nebula appears more a part of the picture instead of just pasted on to the background. There is a very faint amount of the 'eyebrow' visible in the full size picture, but it doesn't show on my tablet or phone. It is clear that I need a darker sky to garner such faint parts unless I'm willing to settle for grainy pictures. Here is the link for full details: NGC 7293, NGC 7293 in Aquarius (nyostrander.us)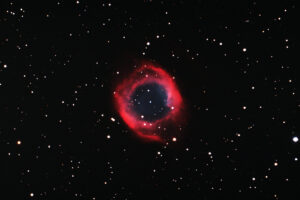 Even in this thumbnail, the helix looks much smoother.