Posted by sasadmin, May 6th, 2011
Last night's opening was quite cold and started with poor visibility, but the night ended with several highlights, including clear views of a brilliant thin crescent Moon just after sunset, Saturn, M51, and Gemini-contained NGC members 2371-2 (a good example of how the new O III filter enhances overall detail in some objects) and 2392 (the Eskimo Nebula). Tonight is expected to be overcast in Tully but tomorrow night looks promising for clear (if not entirely transparent) skies. Stay tuned tomorrow afternoon for an official update.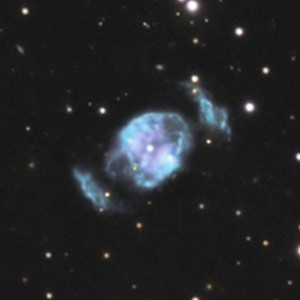 NGC 2371-2. See en.wikipedia.org/wiki/NGC_2371-2 for more info.