The spring is known as the season of the galaxies. Ursa Major, The Big Dipper, sits between Polaris, the North Star, and the Zenith. Together with Canes Venatici, just inside the handle of the dipper, there is a multitude of galaxies and other deep sky treasures.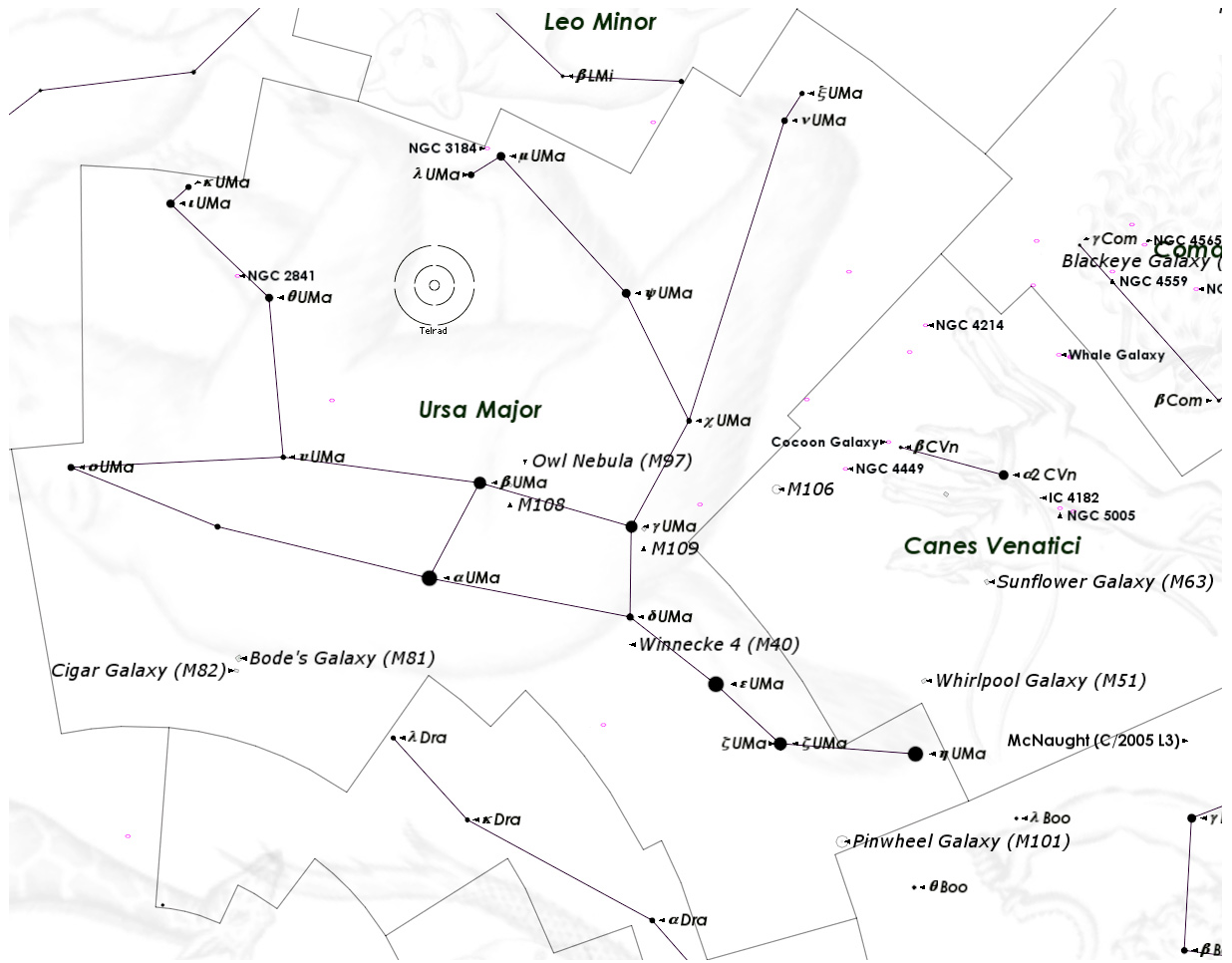 An easy and fun starter is the pair of Alcor and Mizar. This is a double star which should just be separable with the naked eye, with Mizar being the brighter of the two. In a small telescope, Mizar should be separable into two components. The end star of the Dipper's handle is called Alkaid. Within a short distance of Alkaid is M101, the Pinwheel Galaxy. This galaxy has low surface brightness and reveals a fair amount of detail in a larger scope. It spans a ¼ degree in size. Just outside the bowl of the Dipper on its inner side lies M109. It lies 2/3 of a degree southeast from the bowl star. It is a barred spiral with only the inner portion seen well in a small scope. Just below the bowl, within a short distance of the beta star lie M97 and M108. M97 is a bright planetary nebula known as the Owl Nebula. In larger scopes there are two dark areas that give the appearance of the eyes of an owl. Next to it is an edge on galaxy, M108. This is 10th magnitude spiral seen edge on. It has a bright center with mottling around it.
If one draws a line from M109 through the alpha star you will reach M81 and M82. These are a couple of bright galaxies that can be viewed in the same low power field. M 81 is the prettier of the two when viewed in a 4" or larger scope. If we work about 4 degrees southwest from, Alkaid we come across M51, the Whirlpool Galaxy. This is the first of the of the Messier Objects we will look for in Canes Venatici. It is a spiral galaxy that is seen edge on, and exhibits a tremendous amount of detail in larger scopes. In dark skies it can be seen in Binoculars. In the southeast corner of the constellation is the fine globular cluster M3. It is very compact and a splendid sight in medium size scopes. There are three other galaxies that Messier found in Canis Venatici, M63, M94 and M106. See the above map for help.